About Us
Wok Express is a Chinese takeaway in High Wycombe. Why don't you try our Thai Chilli & Basil or Pineapple & Ginger?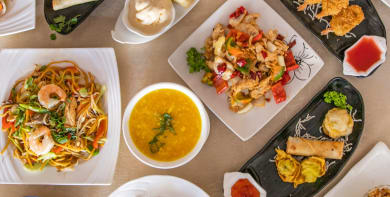 Reviews
499 reviews
Maggie
"Always great service and fab food"
19/02/2021
Tom
"Flawless, food was really nice and hot on arrival. Will definitely use Just Eat and Wok Express again"
08/02/2021
Sarah
"Better early than late x rather on time lol x but food is just fabulous x"
06/02/2021
SHAUN
"These guys have always been brilliant, they NEVER let me down. Fantastic service :-)"
04/02/2021
Menu
BBQ Chicken Wings Box
Contains:
Wheat
Sesame-seeds
Soya
£16.90
BBQ Chicken Wings Portion
Contains:
Wheat
Sesame-seeds
Soya
£6.90
BBQ Ribs Box
Contains:
Wheat
Sesame-seeds
Soya
£19.50
BBQ Ribs Portion
Contains:
Wheat
Sesame-seeds
Soya
£8.00
Korean BBQ Ribs Box
Contains:
Wheat
Crustaceans
Egg
Fish
Sesame-seeds
Soya
£19.50
Korean BBQ Ribs Portion
Contains:
Wheat
Crustaceans
Egg
Fish
Sesame-seeds
Soya
£8.00
Korean Chicken Wings Box
Contains:
Wheat
Crustaceans
Egg
Fish
Sesame-seeds
Soya
£16.90
Korean Chicken Wings Portion
Contains:
Wheat
Crustaceans
Egg
Fish
Sesame-seeds
Soya
£6.00
Korean Duck Wings Box
Contains:
Wheat
Crustaceans
Egg
Fish
Sesame-seeds
Soya
£16.90
Korean Duck Wings Portion
Contains:
Wheat
Crustaceans
Egg
Fish
Sesame-seeds
Soya
£6.00
Peking Spicy Chicken Wings Box
Contains:
Egg
Sesame-seeds
Soya
Medium hot
£16.90
Peking Spicy Chicken Wings Portion
Contains:
Egg
Sesame-seeds
Soya
Medium hot
£6.90
Peking Spicy Ribs Box
Contains:
Egg
Sesame-seeds
Soya
Medium hot
£19.50
Peking Spicy Ribs Portion
Contains:
Egg
Sesame-seeds
Soya
Medium hot
£8.00
Salt and Pepper Chicken Wings Box
Contains:
Egg
Sesame-seeds
Soya
Medium hot
£16.90
Salt and Pepper Chicken Wings Portion
Contains:
Egg
Sesame-seeds
Soya
Medium hot
£6.90
Salt & Pepper Ribs Box
Contains:
Egg
Sesame-seeds
Soya
Medium hot
£19.50
Salt & Pepper Ribs Portion
Contains:
Egg
Sesame-seeds
Soya
Medium hot
£8.00
BBQ Lamb Ribs Box
Contains:
Wheat
Sesame-seeds
Soya
£19.50
BBQ Lamb Ribs Portion
Contains:
Wheat
Sesame-seeds
Soya
£8.00
Salt and Pepper Lamb Ribs Box
Medium hot
Contains:
Egg
Sesame-seeds
Soya
£19.50
Salt and Pepper Lamb Ribs Portion
Medium hot
Contains:
Egg
Sesame-seeds
Soya
£8.00
Char Sui Buns (Steamed Pork) (2)
Contains:
Wheat
Crustaceans
Egg
Fish
Sesame-seeds
Soya
£4.50
Chicken Buns (Steamed) (2)
Contains:
Wheat
Molluscs
Sesame-seeds
Soya
£4.50
Chicken Dumplings (4)
Contains:
Wheat
Egg
Sesame-seeds
Soya
£4.00
Vegetarian Dumplings (4)
Contains:
Wheat
Mustard
Sesame-seeds
Soya
£3.50
Sui Mai (Steamed Pork & Prawn) (4)
Contains:
Wheat
Egg
Sesame-seeds
Soya
£4.50
Ha Kow (Steamed Prawns) (4)
Contains:
Wheat
Crustaceans
Fish
Sesame-seeds
Soya
£4.50
Cashew Nuts A. King Prawns
Contains:
Wheat
Molluscs
Sesame-seeds
Soya
Mild hot
£9.45
Cashew Nuts B. Beef
Contains:
Wheat
Molluscs
Sesame-seeds
Soya
Mild hot
£8.90
Cashew Nuts C. Chicken
Contains:
Wheat
Molluscs
Sesame-seeds
Soya
Mild hot
£8.50
Cashew Nuts D. Roast Duck
Contains:
Wheat
Molluscs
Sesame-seeds
Soya
Mild hot
£10.00
Cashew Nuts E. Lamb
Contains:
Wheat
Molluscs
Sesame-seeds
Soya
Mild hot
£9.45
Cashew Nuts F. Fish
Contains:
Wheat
Molluscs
Sesame-seeds
Soya
Mild hot
£8.90
Cashew Nuts G. Char Sui (Roast Pork)
Contains:
Wheat
Molluscs
Sesame-seeds
Soya
Mild hot
£8.90
Cashew Nuts H. Pork
Contains:
Wheat
Molluscs
Sesame-seeds
Soya
Mild hot
£8.90
Cashew Nuts I. Special (King Prawns, Beef, Chicken & Char Sui)
Contains:
Wheat
Molluscs
Sesame-seeds
Soya
Mild hot
£9.45
Cashew Nuts J. Steak
Contains:
Wheat
Molluscs
Sesame-seeds
Soya
Mild hot
£11.45
Cashew Nuts K. Fried Tofu
Contains:
Wheat
Molluscs
Sesame-seeds
Soya
Mild hot
£8.00
Cashew Nuts L. Broccoli
Contains:
Wheat
Molluscs
Sesame-seeds
Soya
Mild hot
£7.50
Cashew Nuts M. Mushrooms
Contains:
Wheat
Molluscs
Sesame-seeds
Soya
Mild hot
£7.50
Cashew Nuts N. Mixed Seafood
Contains:
Wheat
Molluscs
Sesame-seeds
Soya
Mild hot
£9.00
Cashew Nuts N. Mussels
Contains:
Wheat
Molluscs
Sesame-seeds
Soya
Mild hot
£9.00
Cashew Nuts N. Squid
Contains:
Wheat
Molluscs
Sesame-seeds
Soya
Mild hot
£9.00
Chop Suey A. King Prawns
Contains:
Wheat
Egg
Molluscs
Sesame-seeds
Soya
£7.95
Chop Suey B. Beef
Contains:
Wheat
Egg
Molluscs
Sesame-seeds
Soya
£7.40
Chop Suey C. Chicken
Contains:
Wheat
Egg
Molluscs
Sesame-seeds
Soya
£7.00
Chop Suey D. Roast Duck
Contains:
Wheat
Egg
Molluscs
Sesame-seeds
Soya
£8.50
Chop Suey E. Lamb
Contains:
Wheat
Egg
Molluscs
Sesame-seeds
Soya
£7.95
Chop Suey F. Fish
Contains:
Wheat
Egg
Molluscs
Sesame-seeds
Soya
£7.40
Chop Suey G. Char Sui (Roast Pork)
Contains:
Wheat
Egg
Molluscs
Sesame-seeds
Soya
£7.40
Chop Suey H. Pork
Contains:
Wheat
Egg
Molluscs
Sesame-seeds
Soya
£7.40
Chop Suey I. Special (King Prawns, Beef, Chicken & Char Sui)
Contains:
Wheat
Egg
Molluscs
Sesame-seeds
Soya
£7.95
Chop Suey J. Steak
Contains:
Wheat
Egg
Molluscs
Sesame-seeds
Soya
£9.95
Chop Suey K. Fried Tofu
Contains:
Wheat
Egg
Molluscs
Sesame-seeds
Soya
£6.50
Chop Suey L. Broccoli
Contains:
Wheat
Egg
Molluscs
Sesame-seeds
Soya
£6.00
Chop Suey M. Mushrooms
Contains:
Wheat
Egg
Molluscs
Sesame-seeds
Soya
£6.00
Chop Suey N. Mixed Seafood
Contains:
Wheat
Egg
Molluscs
Sesame-seeds
Soya
£6.00
Chop Suey N. Mussels
Contains:
Wheat
Egg
Molluscs
Sesame-seeds
Soya
£7.50
Chop Suey N. Squid
Contains:
Wheat
Egg
Molluscs
Sesame-seeds
Soya
£7.50
Chow Mein A. King Prawns
Contains:
Wheat
Molluscs
Sesame-seeds
Soya
£9.45
Chow Mein B. Beef
Contains:
Wheat
Molluscs
Sesame-seeds
Soya
£8.90
Chow Mein C. Chicken
Contains:
Wheat
Molluscs
Sesame-seeds
Soya
£8.50
Chow Mein D. Roast Duck
Contains:
Wheat
Molluscs
Sesame-seeds
Soya
£10.00
Chow Mein E. Lamb
Contains:
Wheat
Molluscs
Sesame-seeds
Soya
£9.45
Chow Mein F. Fish
Contains:
Wheat
Molluscs
Sesame-seeds
Soya
£8.90
Chow Mein G. Char Sui (Roast Pork)
Contains:
Wheat
Molluscs
Sesame-seeds
Soya
£8.90
Chow Mein H. Pork
Contains:
Wheat
Molluscs
Sesame-seeds
Soya
£8.90
Chow Mein I. Special (King Prawns, Beef, Chicken & Char Sui)
Contains:
Wheat
Molluscs
Sesame-seeds
Soya
£9.45
Chow Mein J. Steak
Contains:
Wheat
Molluscs
Sesame-seeds
Soya
£11.45
Chow Mein K. Fried Tofu
Contains:
Wheat
Molluscs
Sesame-seeds
Soya
£8.00
Chow Mein L. Broccoli
Contains:
Wheat
Molluscs
Sesame-seeds
Soya
£7.50
Chow Mein M. Mushrooms
Contains:
Wheat
Molluscs
Sesame-seeds
Soya
£7.50
Chow Mein N. Mixed Seafood
Contains:
Wheat
Molluscs
Sesame-seeds
Soya
£9.00
Chow Mein N. Mussels
Contains:
Wheat
Molluscs
Sesame-seeds
Soya
£9.00
Chow Mein N. Squid
Contains:
Wheat
Molluscs
Sesame-seeds
Soya
£9.00
Cantonese Sauce A. King Prawns
Fruity
Contains:
Wheat
Celery
Fish
Sesame-seeds
Soya
£7.95
Cantonese Sauce B. Beef
Fruity
Contains:
Wheat
Celery
Fish
Sesame-seeds
Soya
£7.40
Cantonese Sauce C. Chicken
Fruity
Contains:
Wheat
Celery
Fish
Sesame-seeds
Soya
£7.00
Cantonese Sauce D. Roast Duck
Fruity
Contains:
Wheat
Celery
Fish
Sesame-seeds
Soya
£8.50
Cantonese Sauce E. Lamb
Fruity
Contains:
Wheat
Celery
Fish
Sesame-seeds
Soya
£7.95
Cantonese Sauce F. Fish
Fruity
Contains:
Wheat
Celery
Fish
Sesame-seeds
Soya
£7.40
Cantonese Sauce G. Char Sui (Roast Pork)
Fruity
Contains:
Wheat
Celery
Fish
Sesame-seeds
Soya
£7.40
Cantonese Sauce H. Pork
Fruity
Contains:
Wheat
Celery
Fish
Sesame-seeds
Soya
£7.40
Cantonese Sauce I. Special (King Prawns, Beef, Chicken & Char Sui)
Fruity
Contains:
Wheat
Celery
Fish
Sesame-seeds
Soya
£7.95
Cantonese Sauce J. Steak
Fruity
Contains:
Wheat
Celery
Fish
Sesame-seeds
Soya
£9.95
Cantonese Sauce K. Fried Tofu
Fruity
Contains:
Wheat
Celery
Fish
Sesame-seeds
Soya
£6.50
Cantonese Sauce L. Broccoli
Fruity
Contains:
Wheat
Celery
Fish
Sesame-seeds
Soya
£6.00
Cantonese Sauce M. Mushrooms
Fruity
Contains:
Wheat
Celery
Fish
Sesame-seeds
Soya
£6.00
Cantonese Sauce N. Mixed Seafood
Fruity
Contains:
Wheat
Celery
Fish
Sesame-seeds
Soya
£7.50
Cantonese Sauce N. Mussels
Fruity
Contains:
Wheat
Celery
Fish
Sesame-seeds
Soya
£7.50
Cantonese Sauce N. Squid
Fruity
Contains:
Wheat
Celery
Fish
Sesame-seeds
Soya
£7.50
Beansprouts A. King Prawns
Contains:
Wheat
Molluscs
Sesame-seeds
Soya
£7.95
Beansprouts B. Beef
Contains:
Wheat
Molluscs
Sesame-seeds
Soya
£7.40
Beansprouts C. Chicken
Contains:
Wheat
Molluscs
Sesame-seeds
Soya
£7.00
Beansprouts D. Roast Duck
Contains:
Wheat
Molluscs
Sesame-seeds
Soya
£8.50
Beansprouts E. Lamb
Contains:
Wheat
Molluscs
Sesame-seeds
Soya
£7.95
Beansprouts F. Fish
Contains:
Wheat
Molluscs
Sesame-seeds
Soya
£7.40
Beansprouts G. Char Sui (Roast Pork)
Contains:
Wheat
Molluscs
Sesame-seeds
Soya
£7.40
Beansprouts H. Pork
Contains:
Wheat
Molluscs
Sesame-seeds
Soya
£7.40
Beansprouts I. Special (King Prawns, Beef, Chicken & Char Sui)
Contains:
Wheat
Molluscs
Sesame-seeds
Soya
£7.95
Beansprouts J. Steak
Contains:
Wheat
Molluscs
Sesame-seeds
Soya
£9.95
Beansprouts K. Fried Tofu
Contains:
Wheat
Molluscs
Sesame-seeds
Soya
£6.50
Beansprouts L. Broccoli
Contains:
Wheat
Molluscs
Sesame-seeds
Soya
£6.00
Beansprouts M. Mushrooms
Contains:
Wheat
Molluscs
Sesame-seeds
Soya
£6.00
Beansprouts N. Mixed Seafood
Contains:
Wheat
Molluscs
Sesame-seeds
Soya
£7.50
Beansprouts N. Mussels
Contains:
Wheat
Molluscs
Sesame-seeds
Soya
£7.50
Beansprouts N. Squid
Contains:
Wheat
Molluscs
Sesame-seeds
Soya
£7.50
Black Bean Sauce A. King Prawns
With peppers and pinch of chilli
Contains:
Wheat
Sesame-seeds
Soya
Mild hot
£7.95
Black Bean Sauce B. Beef
With peppers and pinch of chilli
Contains:
Wheat
Sesame-seeds
Soya
Mild hot
£7.40
Black Bean Sauce C. Chicken
With peppers and pinch of chilli
Contains:
Wheat
Sesame-seeds
Soya
Mild hot
£7.00
Black Bean Sauce D. Roast Duck
With peppers and pinch of chilli
Contains:
Wheat
Sesame-seeds
Soya
Mild hot
£8.50
Black Bean Sauce E. Lamb
With peppers and pinch of chilli
Contains:
Wheat
Sesame-seeds
Soya
Mild hot
£7.95
Black Bean Sauce F. Fish
With peppers and pinch of chilli
Contains:
Wheat
Sesame-seeds
Soya
Mild hot
£7.40
Black Bean Sauce G. Char Sui (Roast Pork)
With peppers and pinch of chilli
Contains:
Wheat
Sesame-seeds
Soya
Mild hot
£7.40
Black Bean Sauce H. Pork
With peppers and pinch of chilli
Contains:
Wheat
Sesame-seeds
Soya
Mild hot
£7.40
Black Bean Sauce I. Special (King Prawns, Beef, Chicken & Char Sui)
With peppers and pinch of chilli
Contains:
Wheat
Sesame-seeds
Soya
Mild hot
£7.95
Black Bean Sauce J. Steak
With peppers and pinch of chilli
Contains:
Wheat
Sesame-seeds
Soya
Mild hot
£9.95
Black Bean Sauce K. Fried Tofu
With peppers and pinch of chilli
Contains:
Wheat
Sesame-seeds
Soya
Mild hot
£6.50
Black Bean Sauce L. Broccoli
With peppers and pinch of chilli
Contains:
Wheat
Sesame-seeds
Soya
Mild hot
£6.00
Black Bean Sauce M. Mushrooms
With peppers and pinch of chilli
Contains:
Wheat
Sesame-seeds
Soya
Mild hot
£6.00
Black Bean Sauce N. Mixed Seafood
With peppers and pinch of chilli
Contains:
Wheat
Sesame-seeds
Soya
Mild hot
£7.50
Black Bean Sauce N. Mussels
With peppers and pinch of chilli
Contains:
Wheat
Sesame-seeds
Soya
Mild hot
£7.50
Black Bean Sauce N. Squid
With peppers and pinch of chilli
Contains:
Wheat
Sesame-seeds
Soya
Mild hot
£7.50
Black Pepper Sauce A. King Prawns
Contains:
Wheat
Fish
Sesame-seeds
Soya
Medium hot
£7.95
Black Pepper Sauce B. Beef
Contains:
Wheat
Fish
Sesame-seeds
Soya
Medium hot
£7.40
Black Pepper Sauce C. Chicken
Contains:
Wheat
Fish
Sesame-seeds
Soya
Medium hot
£7.00
Black Pepper Sauce D. Roast Duck
Contains:
Wheat
Fish
Sesame-seeds
Soya
Medium hot
£8.50
Black Pepper Sauce E. Lamb
Contains:
Wheat
Fish
Sesame-seeds
Soya
Medium hot
£7.95
Black Pepper Sauce F. Fish
Contains:
Wheat
Fish
Sesame-seeds
Soya
Medium hot
£7.40
Black Pepper Sauce G. Char Sui (Roast Pork)
Contains:
Wheat
Fish
Sesame-seeds
Soya
Medium hot
£7.40
Black Pepper Sauce H. Pork
Contains:
Wheat
Fish
Sesame-seeds
Soya
Medium hot
£7.40
Black Pepper Sauce I. Special (King Prawns, Beef, Chicken & Char Sui)
Contains:
Wheat
Fish
Sesame-seeds
Soya
Medium hot
£7.95
Black Pepper Sauce J. Steak
Contains:
Wheat
Fish
Sesame-seeds
Soya
Medium hot
£9.95
Black Pepper Sauce K. Fried Tofu
Contains:
Wheat
Fish
Sesame-seeds
Soya
Medium hot
£6.50
Black Pepper Sauce L. Broccoli
Contains:
Wheat
Fish
Sesame-seeds
Soya
Medium hot
£6.00
Black Pepper Sauce M. Mushrooms
Contains:
Wheat
Fish
Sesame-seeds
Soya
Medium hot
£6.00
Black Pepper Sauce N. Mixed Seafood
Contains:
Wheat
Fish
Sesame-seeds
Soya
Medium hot
£7.50
Black Pepper Sauce N. Mussels
Contains:
Wheat
Fish
Sesame-seeds
Soya
Medium hot
£7.50
Black Pepper Sauce N. Squid
Contains:
Wheat
Fish
Sesame-seeds
Soya
Medium hot
£7.50
Fried Rice Dishes A. King Prawns
Contains:
Wheat
Egg
Sesame-seeds
Soya
£7.95
Fried Rice Dishes B. Beef
Contains:
Wheat
Egg
Sesame-seeds
Soya
£7.40
Fried Rice Dishes C. Chicken
Contains:
Wheat
Egg
Sesame-seeds
Soya
£7.00
Fried Rice Dishes D. Roast Duck
Contains:
Wheat
Egg
Sesame-seeds
Soya
£8.50
Fried Rice Dishes E. Lamb
Contains:
Wheat
Egg
Sesame-seeds
Soya
£7.95
Fried Rice Dishes F. Fish
Contains:
Wheat
Egg
Sesame-seeds
Soya
£7.40
Fried Rice Dishes G. Char Sui (Roast Pork)
Contains:
Wheat
Egg
Sesame-seeds
Soya
£7.40
Fried Rice Dishes H. Pork
Contains:
Wheat
Egg
Sesame-seeds
Soya
£7.40
Fried Rice Dishes I. Special (King Prawns, Beef, Chicken & Char Sui)
Contains:
Wheat
Egg
Sesame-seeds
Soya
£7.95
Fried Rice Dishes J. Steak
Contains:
Wheat
Egg
Sesame-seeds
Soya
£9.95
Fried Rice Dishes K. Fried Tofu
Contains:
Wheat
Egg
Sesame-seeds
Soya
£6.50
Fried Rice Dishes L. Broccoli
Contains:
Wheat
Egg
Sesame-seeds
Soya
£6.00
Fried Rice Dishes M. Mushrooms
Contains:
Wheat
Egg
Sesame-seeds
Soya
£6.00
Fried Rice Dishes N. Mixed Seafood
Contains:
Wheat
Egg
Sesame-seeds
Soya
£7.50
Fried Rice Dishes N. Mussels
Contains:
Wheat
Egg
Sesame-seeds
Soya
£7.50
Fried Rice Dishes N. Squid
Contains:
Wheat
Egg
Sesame-seeds
Soya
£7.50
Garlic Sauce A. King Prawns
Contains:
Wheat
Molluscs
Sesame-seeds
Soya
£7.95
Garlic Sauce B. Beef
Contains:
Wheat
Molluscs
Sesame-seeds
Soya
£7.40
Garlic Sauce C. Chicken
Contains:
Wheat
Molluscs
Sesame-seeds
Soya
£7.00
Garlic Sauce D. Roast Duck
Contains:
Wheat
Molluscs
Sesame-seeds
Soya
£8.50
Garlic Sauce E. Lamb
Contains:
Wheat
Molluscs
Sesame-seeds
Soya
£7.95
Garlic Sauce F. Fish
Contains:
Wheat
Molluscs
Sesame-seeds
Soya
£7.40
Garlic Sauce G. Char Sui (Roast Pork)
Contains:
Wheat
Molluscs
Sesame-seeds
Soya
£7.40
Garlic Sauce H. Pork
Contains:
Wheat
Molluscs
Sesame-seeds
Soya
£7.40
Garlic Sauce I. Special (King Prawns, Beef, Chicken & Char Sui)
Contains:
Wheat
Molluscs
Sesame-seeds
Soya
£7.95
Garlic Sauce J. Steak
Contains:
Wheat
Molluscs
Sesame-seeds
Soya
£9.95
Garlic Sauce K. Fried Tofu
Contains:
Wheat
Molluscs
Sesame-seeds
Soya
£6.50
Garlic Sauce L. Broccoli
Contains:
Wheat
Molluscs
Sesame-seeds
Soya
£6.00
Garlic Sauce M. Mushrooms
Contains:
Wheat
Molluscs
Sesame-seeds
Soya
£6.00
Garlic Sauce N. Mixed Seafood
Contains:
Wheat
Molluscs
Sesame-seeds
Soya
£7.50
Garlic Sauce N. Mussels
Contains:
Wheat
Molluscs
Sesame-seeds
Soya
£7.50
Garlic Sauce N. Squid
Contains:
Wheat
Molluscs
Sesame-seeds
Soya
£7.50
Ginger & Spring Onions A. King Prawns
Contains:
Wheat
Molluscs
Sesame-seeds
Soya
Mild hot
£7.95
Ginger & Spring Onions B. Beef
Contains:
Wheat
Molluscs
Sesame-seeds
Soya
Mild hot
£7.40
Ginger & Spring Onions C. Chicken
Contains:
Wheat
Molluscs
Sesame-seeds
Soya
Mild hot
£7.00
Ginger & Spring Onions D. Roast Duck
Contains:
Wheat
Molluscs
Sesame-seeds
Soya
Mild hot
£8.50
Ginger & Spring Onions E. Lamb
Contains:
Wheat
Molluscs
Sesame-seeds
Soya
Mild hot
£7.95
Ginger & Spring Onions F. Fish
Contains:
Wheat
Molluscs
Sesame-seeds
Soya
Mild hot
£7.40
Ginger & Spring Onions G. Char Sui (Roast Pork)
Contains:
Wheat
Molluscs
Sesame-seeds
Soya
Mild hot
£7.40
Ginger & Spring Onions H. Pork
Contains:
Wheat
Molluscs
Sesame-seeds
Soya
Mild hot
£7.40
Ginger & Spring Onions I. Special (King Prawns, Beef, Chicken & Char Sui)
Contains:
Wheat
Molluscs
Sesame-seeds
Soya
Mild hot
£7.95
Ginger & Spring Onions J. Steak
Contains:
Wheat
Molluscs
Sesame-seeds
Soya
Mild hot
£9.95
Ginger & Spring Onions K. Fried Tofu
Contains:
Wheat
Molluscs
Sesame-seeds
Soya
Mild hot
£6.50
Ginger & Spring Onions L. Broccoli
Contains:
Wheat
Molluscs
Sesame-seeds
Soya
Mild hot
£6.00
Ginger & Spring Onions M. Mushrooms
Contains:
Wheat
Molluscs
Sesame-seeds
Soya
Mild hot
£6.00
Ginger & Spring Onions N. Mixed Seafood
Contains:
Wheat
Molluscs
Sesame-seeds
Soya
Mild hot
£7.50
Ginger & Spring Onions N. Mussels
Contains:
Wheat
Molluscs
Sesame-seeds
Soya
Mild hot
£7.50
Ginger & Spring Onions N. Squid
Contains:
Wheat
Molluscs
Sesame-seeds
Soya
Mild hot
£7.50
Chilli & Garlic Sauce A. King Prawns
With babycorn & straw mushrooms
Contains:
Wheat
Molluscs
Sesame-seeds
Soya
Medium hot
£7.95
Chilli & Garlic Sauce B. Beef
With babycorn & straw mushrooms
Contains:
Wheat
Molluscs
Sesame-seeds
Soya
Medium hot
£7.40
Chilli & Garlic Sauce C. Chicken
With babycorn & straw mushrooms
Contains:
Wheat
Molluscs
Sesame-seeds
Soya
Medium hot
£7.00
Chilli & Garlic Sauce D. Roast Duck
With babycorn & straw mushrooms
Contains:
Wheat
Molluscs
Sesame-seeds
Soya
Medium hot
£8.50
Chilli & Garlic Sauce E. Lamb
With babycorn & straw mushrooms
Contains:
Wheat
Molluscs
Sesame-seeds
Soya
Medium hot
£7.95
Chilli & Garlic Sauce F. Fish
With babycorn & straw mushrooms
Contains:
Wheat
Molluscs
Sesame-seeds
Soya
Medium hot
£7.40
Chilli & Garlic Sauce G. Char Siu (Roast Pork)
With babycorn & straw mushrooms
Contains:
Wheat
Molluscs
Sesame-seeds
Soya
Medium hot
£7.40
Chilli & Garlic Sauce H. Pork
With babycorn & straw mushrooms
Contains:
Wheat
Molluscs
Sesame-seeds
Soya
Medium hot
£7.40
Chilli & Garlic Sauce I. Special (King Prawns, Beef, Chicken & Char Siu)
With babycorn & straw mushrooms
Contains:
Wheat
Molluscs
Sesame-seeds
Soya
Medium hot
£7.95
Chilli & Garlic Sauce J. Steak
With babycorn & straw mushrooms
Contains:
Wheat
Molluscs
Sesame-seeds
Soya
Medium hot
£9.95
Chilli & Garlic Sauce K. Fried Tofu
With babycorn & straw mushrooms
Contains:
Wheat
Molluscs
Sesame-seeds
Soya
Medium hot
£6.50
Chilli & Garlic Sauce L. Broccoli
With babycorn & straw mushrooms
Contains:
Wheat
Molluscs
Sesame-seeds
Soya
Medium hot
£6.00
Chilli & Garlic Sauce M. Mushrooms
With babycorn & straw mushrooms
Contains:
Wheat
Molluscs
Sesame-seeds
Soya
Medium hot
£6.00
Chilli & Garlic Sauce N. Mixed Seafood
With babycorn & straw mushrooms
Contains:
Wheat
Molluscs
Sesame-seeds
Soya
Medium hot
£7.50
Chilli & Garlic Sauce N. Mussels
With babycorn & straw mushrooms
Contains:
Wheat
Molluscs
Sesame-seeds
Soya
Medium hot
£7.50
Chilli & Garlic Sauce N. Squid
With babycorn & straw mushrooms
Contains:
Wheat
Molluscs
Sesame-seeds
Soya
Medium hot
£7.50
Curry Sauce A. King Prawns
Contains:
Wheat
Celery
Molluscs
Mustard
Sesame-seeds
Soya
Mild hot
£7.95
Curry Sauce B. Beef
Contains:
Wheat
Celery
Molluscs
Mustard
Sesame-seeds
Soya
Mild hot
£7.40
Curry Sauce C. Chicken
Contains:
Wheat
Celery
Molluscs
Mustard
Sesame-seeds
Soya
Mild hot
£7.00
Curry Sauce D. Roast Duck
Contains:
Wheat
Celery
Molluscs
Mustard
Sesame-seeds
Soya
Mild hot
£8.50
Curry Sauce E. Lamb
Contains:
Wheat
Celery
Molluscs
Mustard
Sesame-seeds
Soya
Mild hot
£7.95
Curry Sauce F. Fish
Contains:
Wheat
Celery
Molluscs
Mustard
Sesame-seeds
Soya
Mild hot
£7.40
Curry Sauce G. Char Sui (Roast Pork)
Contains:
Wheat
Celery
Molluscs
Mustard
Sesame-seeds
Soya
Mild hot
£7.40
Curry Sauce H. Pork
Contains:
Wheat
Celery
Molluscs
Mustard
Sesame-seeds
Soya
Mild hot
£7.40
Curry Sauce I. Special (King Prawns, Beef, Chicken & Char Sui)
Contains:
Wheat
Celery
Molluscs
Mustard
Sesame-seeds
Soya
Mild hot
£7.95
Curry Sauce J. Steak
Contains:
Wheat
Celery
Molluscs
Mustard
Sesame-seeds
Soya
Mild hot
£9.95
Curry Sauce K. Fried Tofu
Contains:
Wheat
Celery
Molluscs
Mustard
Sesame-seeds
Soya
Mild hot
£6.50
Curry Sauce L. Broccoli
Contains:
Wheat
Celery
Molluscs
Mustard
Sesame-seeds
Soya
Mild hot
£6.00
Curry Sauce M. Mushrooms
Contains:
Wheat
Celery
Molluscs
Mustard
Sesame-seeds
Soya
Mild hot
£6.00
Curry Sauce N. Mixed Seafood
Contains:
Wheat
Celery
Molluscs
Mustard
Sesame-seeds
Soya
Mild hot
£7.50
Curry Sauce N. Mussels
Contains:
Wheat
Celery
Molluscs
Mustard
Sesame-seeds
Soya
Mild hot
£7.50
Curry Sauce N. Squid
Contains:
Wheat
Celery
Molluscs
Mustard
Sesame-seeds
Soya
Mild hot
£7.50
Foo Yung A. King Prawns
Contains:
Egg
Sesame-seeds
Soya
£7.95
Foo Yung B. Beef
Contains:
Egg
Sesame-seeds
Soya
£7.40
Foo Yung C. Chicken
Contains:
Egg
Sesame-seeds
Soya
£7.00
Foo Yung D. Roast Duck
Contains:
Egg
Sesame-seeds
Soya
£8.50
Foo Yung E. Lamb
Contains:
Egg
Sesame-seeds
Soya
£7.95
Foo Yung F. Fish
Contains:
Egg
Sesame-seeds
Soya
£7.40
Foo Yung G. Char Sui (Roast Pork)
Contains:
Egg
Sesame-seeds
Soya
£7.40
Foo Yung H. Pork
Contains:
Egg
Sesame-seeds
Soya
£7.40
Foo Yung I. Special (King Prawns, Beef, Chicken & Char Sui)
Contains:
Egg
Sesame-seeds
Soya
£7.95
Foo Yung J. Steak
Contains:
Egg
Sesame-seeds
Soya
£9.95
Foo Yung K. Fried Tofu
Contains:
Egg
Sesame-seeds
Soya
£6.50
Foo Yung L. Broccoli
Contains:
Egg
Sesame-seeds
Soya
£6.00
Foo Yung M. Mushrooms
Contains:
Egg
Sesame-seeds
Soya
£6.00
Foo Yung N. Mixed Seafood
Contains:
Egg
Sesame-seeds
Soya
£6.00
Foo Yung N. Mussels
Contains:
Egg
Sesame-seeds
Soya
£7.50
Foo Yung N. Squid
Contains:
Egg
Sesame-seeds
Soya
£7.50
Kung Pao Sauce A. King Prawns
Tangy & spicy with cashew nuts
Contains:
Nuts
Sesame-seeds
Soya
Medium hot
£9.45
Kung Pao Sauce B. Beef
Tangy & spicy with cashew nuts
Contains:
Nuts
Sesame-seeds
Soya
Medium hot
£8.90
Kung Pao Sauce C. Chicken
Tangy & spicy with cashew nuts
Contains:
Nuts
Sesame-seeds
Soya
Medium hot
£8.50
Kung Pao Sauce D. Roast Duck
Tangy & spicy with cashew nuts
Contains:
Nuts
Sesame-seeds
Soya
Medium hot
£10.00
Kung Pao Sauce E. Lamb
Tangy & spicy with cashew nuts
Contains:
Nuts
Sesame-seeds
Soya
Medium hot
£9.45
Kung Pao Sauce F. Fish
Tangy & spicy with cashew nuts
Contains:
Nuts
Sesame-seeds
Soya
Medium hot
£8.90
Kung Pao Sauce G. Char Sui (Roast Pork)
Tangy & spicy with cashew nuts
Contains:
Nuts
Sesame-seeds
Soya
Medium hot
£8.90
Kung Pao Sauce H. Pork
Tangy & spicy with cashew nuts
Contains:
Nuts
Sesame-seeds
Soya
Medium hot
£8.90
Kung Pao Sauce I. Special (King Prawns, Beef, Chicken & Char Sui)
Tangy & spicy with cashew nuts
Contains:
Nuts
Sesame-seeds
Soya
Medium hot
£9.45
Kung Pao Sauce J. Steak
Tangy & spicy with cashew nuts
Contains:
Nuts
Sesame-seeds
Soya
Medium hot
£11.45
Kung Pao Sauce K. Fried Tofu
Tangy & spicy with cashew nuts
Contains:
Nuts
Sesame-seeds
Soya
Medium hot
£8.00
Kung Pao Sauce L. Broccoli
Tangy & spicy with cashew nuts
Contains:
Nuts
Sesame-seeds
Soya
Medium hot
£7.50
Kung Pao Sauce M. Mushrooms
Tangy & spicy with cashew nuts
Contains:
Nuts
Sesame-seeds
Soya
Medium hot
£7.50
Kung Pao Sauce N. Mixed Seafood
Tangy & spicy with cashew nuts
Contains:
Nuts
Sesame-seeds
Soya
Medium hot
£9.00
Kung Pao Sauce N. Mussels
Tangy & spicy with cashew nuts
Contains:
Nuts
Sesame-seeds
Soya
Medium hot
£9.00
Kung Pao Sauce N. Squid
Tangy & spicy with cashew nuts
Contains:
Nuts
Sesame-seeds
Soya
Medium hot
£9.00
Mushrooms A. King Prawns
Contains:
Wheat
Molluscs
Sesame-seeds
Soya
£7.95
Mushrooms B. Beef
Contains:
Wheat
Molluscs
Sesame-seeds
Soya
£7.40
Mushrooms C. Chicken
Contains:
Wheat
Molluscs
Sesame-seeds
Soya
£7.00
Mushrooms D. Roast Duck
Contains:
Wheat
Molluscs
Sesame-seeds
Soya
£8.50
Mushrooms E. Lamb
Contains:
Wheat
Molluscs
Sesame-seeds
Soya
£7.95
Mushrooms F. Fish
Contains:
Wheat
Molluscs
Sesame-seeds
Soya
£7.40
Mushrooms G. Char Sui (Roast Pork)
Contains:
Wheat
Molluscs
Sesame-seeds
Soya
£7.40
Mushrooms H. Pork
Contains:
Wheat
Molluscs
Sesame-seeds
Soya
£7.40
Mushrooms I. Special (King Prawns, Beef, Chicken & Char Sui)
Contains:
Wheat
Molluscs
Sesame-seeds
Soya
£7.95
Mushrooms J. Steak
Contains:
Wheat
Molluscs
Sesame-seeds
Soya
£9.95
Mushrooms K. Fried Tofu
Contains:
Wheat
Molluscs
Sesame-seeds
Soya
£6.50
Mushrooms L. Broccoli
Contains:
Wheat
Molluscs
Sesame-seeds
Soya
£6.00
Mushrooms M. Mushrooms
Contains:
Wheat
Molluscs
Sesame-seeds
Soya
£6.00
Mushrooms N. Mixed Seafood
Contains:
Wheat
Molluscs
Sesame-seeds
Soya
£7.50
Mushrooms N. Mussels
Contains:
Wheat
Molluscs
Sesame-seeds
Soya
£7.50
Mushrooms N. Squid
Contains:
Wheat
Molluscs
Sesame-seeds
Soya
£7.50
Oyster Sauce A. King Prawns
Not vegetarian
Contains:
Wheat
Molluscs
Sesame-seeds
Soya
£7.95
Oyster Sauce B. Beef
Not vegetarian
Contains:
Wheat
Molluscs
Sesame-seeds
Soya
£7.40
Oyster Sauce C. Chicken
Not vegetarian
Contains:
Wheat
Molluscs
Sesame-seeds
Soya
£7.00
Oyster Sauce D. Roast Duck
Not vegetarian
Contains:
Wheat
Molluscs
Sesame-seeds
Soya
£8.50
Oyster Sauce E. Lamb
Not vegetarian
Contains:
Wheat
Molluscs
Sesame-seeds
Soya
£7.95
Oyster Sauce F. Fish
Not vegetarian
Contains:
Wheat
Molluscs
Sesame-seeds
Soya
£7.40
Oyster Sauce G. Char Sui (Roast Pork)
Not vegetarian
Contains:
Wheat
Molluscs
Sesame-seeds
Soya
£7.40
Oyster Sauce H. Pork
Not vegetarian
Contains:
Wheat
Molluscs
Sesame-seeds
Soya
£7.40
Oyster Sauce I. Special (King Prawns, Beef, Chicken & Char Sui)
Not vegetarian
Contains:
Wheat
Molluscs
Sesame-seeds
Soya
£7.95
Oyster Sauce J. Steak
Not vegetarian
Contains:
Wheat
Molluscs
Sesame-seeds
Soya
£9.95
Oyster Sauce K. Fried Tofu
Not vegetarian
Contains:
Wheat
Molluscs
Sesame-seeds
Soya
£6.50
Oyster Sauce L. Broccoli
Not vegetarian
Contains:
Wheat
Molluscs
Sesame-seeds
Soya
£6.00
Oyster Sauce M. Mushrooms
Not vegetarian
Contains:
Wheat
Molluscs
Sesame-seeds
Soya
£6.00
Oyster Sauce N. Mixed Seafood
Not vegetarian
Contains:
Wheat
Molluscs
Sesame-seeds
Soya
£7.50
Oyster Sauce N. Mussels
Not vegetarian
Contains:
Wheat
Molluscs
Sesame-seeds
Soya
£7.50
Oyster Sauce N. Squid
Not vegetarian
Contains:
Wheat
Molluscs
Sesame-seeds
Soya
£7.50
Yellow Bean Sauce A. King Prawns
Contains:
Wheat
Sesame-seeds
Soya
£9.45
Yellow Bean Sauce B. Beef
Contains:
Wheat
Sesame-seeds
Soya
£8.90
Yellow Bean Sauce C. Chicken
Contains:
Wheat
Sesame-seeds
Soya
£8.50
Yellow Bean Sauce D. Roast Duck
Contains:
Wheat
Sesame-seeds
Soya
£10.00
Yellow Bean Sauce E. Lamb
Contains:
Wheat
Sesame-seeds
Soya
£9.45
Yellow Bean Sauce F. Fish
Contains:
Wheat
Sesame-seeds
Soya
£8.90
Yellow Bean Sauce G. Char Sui (Roast Pork)
Contains:
Wheat
Sesame-seeds
Soya
£8.90
Yellow Bean Sauce H. Pork
Contains:
Wheat
Sesame-seeds
Soya
£8.90
Yellow Bean Sauce I. Special (King Prawns, Beef, Chicken & Char Sui)
Contains:
Wheat
Sesame-seeds
Soya
£9.45
Yellow Bean Sauce J. Steak
Contains:
Wheat
Sesame-seeds
Soya
£11.45
Yellow Bean Sauce K. Fried Tofu
Contains:
Wheat
Sesame-seeds
Soya
£8.00
Yellow Bean Sauce L. Broccoli
Contains:
Wheat
Sesame-seeds
Soya
£7.50
Yellow Bean Sauce M. Mushrooms
Contains:
Wheat
Sesame-seeds
Soya
£7.50
Yellow Bean Sauce N. Mixed Seafood
Contains:
Wheat
Sesame-seeds
Soya
£9.00
Yellow Bean Sauce N. Mussels
Contains:
Wheat
Sesame-seeds
Soya
£9.00
Yellow Bean Sauce N. Squid
Contains:
Wheat
Sesame-seeds
Soya
£9.00
Thai Red Curry A. King Prawns
Contains:
Fish
Sesame-seeds
Soya
Medium Hot
£8.95
Thai Red Curry B. Beef
Contains:
Fish
Sesame-seeds
Soya
Medium Hot
£8.40
Thai Red Curry C. Chicken
Contains:
Fish
Sesame-seeds
Soya
Medium Hot
£8.00
Thai Red Curry D. Roast Duck
Contains:
Fish
Sesame-seeds
Soya
Medium Hot
£9.50
Thai Red Curry E. Lamb
Contains:
Fish
Sesame-seeds
Soya
Medium Hot
£8.95
Thai Red Curry F. Fish
Contains:
Fish
Sesame-seeds
Soya
Medium Hot
£8.40
Thai Red Curry G. Char Siu (Roast Pork)
Contains:
Fish
Sesame-seeds
Soya
Medium Hot
£8.40
Thai Red Curry H. Pork
Contains:
Fish
Sesame-seeds
Soya
Medium Hot
£8.40
Thai Red Curry I. Special (King Prawns, Beef, Chicken & Char Siu)
Contains:
Fish
Sesame-seeds
Soya
Medium Hot
£8.95
Thai Red Curry J. Steak
Contains:
Fish
Sesame-seeds
Soya
Medium Hot
£10.95
Thai Red Curry K. Fried Tofu
Contains:
Fish
Sesame-seeds
Soya
Medium Hot
£7.50
Thai Red Curry L. Broccoli
Contains:
Fish
Sesame-seeds
Soya
Medium Hot
£7.00
Thai Red Curry M. Mushrooms
Contains:
Fish
Sesame-seeds
Soya
Medium Hot
£7.00
Thai Red Curry N. Mixed Seafood
Contains:
Fish
Sesame-seeds
Soya
Medium Hot
£8.50
Thai Red Curry N. Mussels
Contains:
Fish
Sesame-seeds
Soya
Medium Hot
£8.50
Thai Red Curry N. Squid
Contains:
Fish
Sesame-seeds
Soya
Medium Hot
£8.50
Waterchestnuts & Bamboo Shoots A. King Prawns
Contains:
Molluscs
Sesame-seeds
Soya
£7.95
Waterchestnuts & Bamboo Shoots B. Beef
Contains:
Molluscs
Sesame-seeds
Soya
£7.40
Waterchestnuts & Bamboo Shoots C. Chicken
Contains:
Molluscs
Sesame-seeds
Soya
£7.00
Waterchestnuts & Bamboo Shoots D. Roast Duck
Contains:
Molluscs
Sesame-seeds
Soya
£8.50
Waterchestnuts & Bamboo Shoots E. Lamb
Contains:
Molluscs
Sesame-seeds
Soya
£7.95
Waterchestnuts & Bamboo Shoots F. Fish
Contains:
Molluscs
Sesame-seeds
Soya
£7.40
Waterchestnuts & Bamboo Shoots G. Char Sui (Roast Pork)
Contains:
Molluscs
Sesame-seeds
Soya
£7.40
Waterchestnuts & Bamboo Shoots H. Pork
Contains:
Molluscs
Sesame-seeds
Soya
£7.40
Waterchestnuts & Bamboo Shoots I. Special (King Prawns, Beef, Chicken & Char Sui)
Contains:
Molluscs
Sesame-seeds
Soya
£7.95
Waterchestnuts & Bamboo Shoots J. Steak
Contains:
Molluscs
Sesame-seeds
Soya
£9.95
Waterchestnuts & Bamboo Shoots K. Fried Tofu
Contains:
Molluscs
Sesame-seeds
Soya
£6.50
Waterchestnuts & Bamboo Shoots L. Broccoli
Contains:
Molluscs
Sesame-seeds
Soya
£6.00
Waterchestnuts & Bamboo Shoots M. Mushrooms
Contains:
Molluscs
Sesame-seeds
Soya
£6.00
Waterchestnuts & Bamboo Shoots N. Mixed Seafood
Contains:
Molluscs
Sesame-seeds
Soya
£7.50
Waterchestnuts & Bamboo Shoots N. Mussels
Contains:
Molluscs
Sesame-seeds
Soya
£7.50
Waterchestnuts & Bamboo Shoots N. Squid
Contains:
Molluscs
Sesame-seeds
Soya
£7.50
Thai Chilli & Basil A. King Prawns
Contains:
Wheat
Fish
Sesame-seeds
Soya
Hot
£8.95
Thai Chilli & Basil B. Beef
Contains:
Wheat
Fish
Sesame-seeds
Soya
Hot
£8.40
Thai Chilli & Basil C. Chicken
Contains:
Wheat
Fish
Sesame-seeds
Soya
Hot
£8.00
Thai Chilli & Basil D. Roast Duck
Contains:
Wheat
Fish
Sesame-seeds
Soya
Hot
£9.50
Thai Chilli & Basil E. Lamb
Contains:
Wheat
Fish
Sesame-seeds
Soya
Hot
£8.95
Thai Chilli & Basil F. Fish
Contains:
Wheat
Fish
Sesame-seeds
Soya
Hot
£8.40
Thai Chilli & Basil G. Char Siu (Roast Pork)
Contains:
Wheat
Fish
Sesame-seeds
Soya
Hot
£8.40
Thai Chilli & Basil H. Pork
Contains:
Wheat
Fish
Sesame-seeds
Soya
Hot
£8.40
Thai Chilli & Basil I. Special (King Prawns, Beef, Chicken & Char Siu)
Contains:
Wheat
Fish
Sesame-seeds
Soya
Hot
£8.95
Thai Chilli & Basil J. Steak
Contains:
Wheat
Fish
Sesame-seeds
Soya
Hot
£10.95
Thai Chilli & Basil K. Fried Tofu
Contains:
Wheat
Fish
Sesame-seeds
Soya
Hot
£7.50
Thai Chilli & Basil L. Broccoli
Contains:
Wheat
Fish
Sesame-seeds
Soya
Hot
£7.00
Thai Chilli & Basil M. Mushrooms
Contains:
Wheat
Fish
Sesame-seeds
Soya
Hot
£7.00
Thai Chilli & Basil N. Mixed Seafood
Contains:
Wheat
Fish
Sesame-seeds
Soya
Hot
£8.50
Thai Chilli & Basil N. Mussels
Contains:
Wheat
Fish
Sesame-seeds
Soya
Hot
£8.50
Thai Chilli & Basil N. Squid
Contains:
Wheat
Fish
Sesame-seeds
Soya
Hot
£8.50
Thai Chilli & Cashew Nuts A. King Prawns
Contains:
Wheat
Fish
Nuts
Sesame-seeds
Soya
Hot
£9.45
Thai Chilli & Cashew Nuts B. Beef
Contains:
Wheat
Fish
Nuts
Sesame-seeds
Soya
Hot
£8.90
Thai Chilli & Cashew Nuts C. Chicken
Contains:
Wheat
Fish
Nuts
Sesame-seeds
Soya
Hot
£8.50
Thai Chilli & Cashew Nuts D. Roast Duck
Contains:
Wheat
Fish
Nuts
Sesame-seeds
Soya
Hot
£10.00
Thai Chilli & Cashew Nuts E. Lamb
Contains:
Wheat
Fish
Nuts
Sesame-seeds
Soya
Hot
£9.45
Thai Chilli & Cashew Nuts F. Fish
Contains:
Wheat
Fish
Nuts
Sesame-seeds
Soya
Hot
£8.90
Thai Chilli & Cashew Nuts G. Char Siu (Roast Pork)
Contains:
Wheat
Fish
Nuts
Sesame-seeds
Soya
Hot
£8.90
Thai Chilli & Cashew Nuts H. Pork
Contains:
Wheat
Fish
Nuts
Sesame-seeds
Soya
Hot
£8.90
Thai Chilli & Cashew Nuts I. Special (King Prawns, Beef, Chicken & Char Siu)
Contains:
Wheat
Fish
Nuts
Sesame-seeds
Soya
Hot
£9.45
Thai Chilli & Cashew Nuts J. Steak
Contains:
Wheat
Fish
Nuts
Sesame-seeds
Soya
Hot
£11.45
Thai Chilli & Cashew Nuts K. Fried Tofu
Contains:
Wheat
Fish
Nuts
Sesame-seeds
Soya
Hot
£8.00
Thai Chilli & Cashew Nuts L. Broccoli
Contains:
Wheat
Fish
Nuts
Sesame-seeds
Soya
Hot
£7.50
Thai Chilli & Cashew Nuts M. Mushrooms
Contains:
Wheat
Fish
Nuts
Sesame-seeds
Soya
Hot
£7.50
Thai Chilli & Cashew Nuts N. Mixed Seafood
Contains:
Wheat
Fish
Nuts
Sesame-seeds
Soya
Hot
£9.00
Thai Chilli & Cashew Nuts N. Mussels
Contains:
Wheat
Fish
Nuts
Sesame-seeds
Soya
Hot
£9.00
Thai Chilli & Cashew Nuts N. Squid
Contains:
Wheat
Fish
Nuts
Sesame-seeds
Soya
Hot
£9.00
Szechuan Sauce Wow A. King Prawns
Contains:
Wheat
Sesame-seeds
Soya
Hot
£7.95
Szechuan Sauce Wow B. Beef
Contains:
Wheat
Sesame-seeds
Soya
Hot
£7.40
Szechuan Sauce Wow C. Chicken
Contains:
Wheat
Sesame-seeds
Soya
Hot
£7.00
Szechuan Sauce Wow D. Roast Duck
Contains:
Wheat
Sesame-seeds
Soya
Hot
£8.50
Szechuan Sauce Wow E. Lamb
Contains:
Wheat
Sesame-seeds
Soya
Hot
£7.95
Szechuan Sauce Wow F. Fish
Contains:
Wheat
Sesame-seeds
Soya
Hot
£7.40
Szechuan Sauce Wow G. Char Siu (Roast Pork)
Contains:
Wheat
Sesame-seeds
Soya
Hot
£7.40
Szechuan Sauce Wow H. Pork
Contains:
Wheat
Sesame-seeds
Soya
Hot
£7.40
Szechuan Sauce Wow I. Special (King Prawns, Beef, Chicken & Char Siu)
Contains:
Wheat
Sesame-seeds
Soya
Hot
£7.95
Szechuan Sauce Wow J. Steak
Contains:
Wheat
Sesame-seeds
Soya
Hot
£9.95
Szechuan Sauce Wow K. Fried Tofu
Contains:
Wheat
Sesame-seeds
Soya
Hot
£6.50
Szechuan Sauce Wow L. Broccoli
Contains:
Wheat
Sesame-seeds
Soya
Hot
£6.00
Szechuan Sauce Wow M. Mushrooms
Contains:
Wheat
Sesame-seeds
Soya
Hot
£6.00
Szechuan Sauce Wow N. Mixed Seafood
Contains:
Wheat
Sesame-seeds
Soya
Hot
£7.50
Szechuan Sauce Wow N. Mussels
Contains:
Wheat
Sesame-seeds
Soya
Hot
£7.50
Szechuan Sauce Wow N. Squid
Contains:
Wheat
Sesame-seeds
Soya
Hot
£7.50
Thai Green Curry A. King Prawns
Contains:
Fish
Sesame-seeds
Soya
Medium Hot
£8.95
Thai Green Curry B. Beef
Contains:
Fish
Sesame-seeds
Soya
Medium Hot
£8.40
Thai Green Curry C. Chicken
Contains:
Fish
Sesame-seeds
Soya
Medium Hot
£8.00
Thai Green Curry D. Roast Duck
Contains:
Fish
Sesame-seeds
Soya
Medium Hot
£9.50
Thai Green Curry E. Lamb
Contains:
Fish
Sesame-seeds
Soya
Medium Hot
£8.95
Thai Green Curry F. Fish
Contains:
Fish
Sesame-seeds
Soya
Medium Hot
£8.40
Thai Green Curry G. Char Siu (Roast Pork)
Contains:
Fish
Sesame-seeds
Soya
Medium Hot
£8.40
Thai Green Curry H. Pork
Contains:
Fish
Sesame-seeds
Soya
Medium Hot
£8.40
Thai Green Curry I. Special (King Prawns, Beef, Chicken & Char Siu)
Contains:
Fish
Sesame-seeds
Soya
Medium Hot
£8.95
Thai Green Curry J. Steak
Contains:
Fish
Sesame-seeds
Soya
Medium Hot
£10.95
Thai Green Curry K. Fried Tofu
Contains:
Fish
Sesame-seeds
Soya
Medium Hot
£7.50
Thai Green Curry L. Broccoli
Contains:
Fish
Sesame-seeds
Soya
Medium Hot
£7.00
Thai Green Curry M. Mushrooms
Contains:
Fish
Sesame-seeds
Soya
Medium Hot
£7.00
Thai Green Curry N. Mixed Seafood
Contains:
Fish
Sesame-seeds
Soya
Medium Hot
£8.50
Thai Green Curry N. Mussels
Contains:
Fish
Sesame-seeds
Soya
Medium Hot
£8.50
Thai Green Curry N. Squid
Contains:
Fish
Sesame-seeds
Soya
Medium Hot
£8.50
Sweet & Sour Sauce A. King Prawns
Contains:
Fish
Sesame-seeds
Soya
£8.45
Sweet & Sour Sauce B. Beef
Contains:
Fish
Sesame-seeds
Soya
£7.90
Sweet & Sour Sauce C. Chicken
Contains:
Fish
Sesame-seeds
Soya
£7.50
Sweet & Sour Sauce D. Roast Duck
Contains:
Fish
Sesame-seeds
Soya
£9.00
Sweet & Sour Sauce E. Lamb
Contains:
Fish
Sesame-seeds
Soya
£8.45
Sweet & Sour Sauce F. Fish
Contains:
Fish
Sesame-seeds
Soya
£7.90
Sweet & Sour Sauce G. Char Sui (Roast Pork)
Contains:
Fish
Sesame-seeds
Soya
£7.90
Sweet & Sour Sauce H. Pork
Contains:
Fish
Sesame-seeds
Soya
£7.90
Sweet & Sour Sauce I. Special (King Prawns, Beef, Chicken & Char Sui)
Contains:
Fish
Sesame-seeds
Soya
£8.45
Sweet & Sour Sauce J. Steak
Contains:
Fish
Sesame-seeds
Soya
£10.45
Sweet & Sour Sauce K. Fried Tofu
Contains:
Fish
Sesame-seeds
Soya
£7.00
Sweet & Sour Sauce L. Broccoli
Contains:
Fish
Sesame-seeds
Soya
£6.50
Sweet & Sour Sauce M. Mushrooms
Contains:
Fish
Sesame-seeds
Soya
£6.50
Sweet & Sour Sauce N. Mixed Seafood
Contains:
Fish
Sesame-seeds
Soya
£8.00
Sweet & Sour Sauce N. Mussels
Contains:
Fish
Sesame-seeds
Soya
£8.00
Sweet & Sour Sauce N. Squid
Contains:
Fish
Sesame-seeds
Soya
£8.00
Satay Sauce A. King Prawns
Spicy, nuts with creamed coconut
Contains:
Wheat
Milk
Mustard
Peanuts
Sesame-seeds
Soya
£8.95
Satay Sauce B. Beef
Spicy, nuts with creamed coconut
Contains:
Wheat
Milk
Mustard
Peanuts
Sesame-seeds
Soya
£8.40
Satay Sauce C. Chicken
Spicy, nuts with creamed coconut
Contains:
Wheat
Milk
Mustard
Peanuts
Sesame-seeds
Soya
£8.00
Satay Sauce D. Roast Duck
Spicy, nuts with creamed coconut
Contains:
Wheat
Milk
Mustard
Peanuts
Sesame-seeds
Soya
£9.50
Satay Sauce E. Lamb
Spicy, nuts with creamed coconut
Contains:
Wheat
Milk
Mustard
Peanuts
Sesame-seeds
Soya
£8.95
Satay Sauce F. Fish
Spicy, nuts with creamed coconut
Contains:
Wheat
Milk
Mustard
Peanuts
Sesame-seeds
Soya
£8.40
Satay Sauce G. Char Sui (Roast Pork)
Spicy, nuts with creamed coconut
Contains:
Wheat
Milk
Mustard
Peanuts
Sesame-seeds
Soya
£8.40
Satay Sauce H. Pork
Spicy, nuts with creamed coconut
Contains:
Wheat
Milk
Mustard
Peanuts
Sesame-seeds
Soya
£8.40
Satay Sauce I. Special (King Prawns, Beef, Chicken & Char Sui)
Spicy, nuts with creamed coconut
Contains:
Wheat
Milk
Mustard
Peanuts
Sesame-seeds
Soya
£8.95
Satay Sauce J. Steak
Spicy, nuts with creamed coconut
Contains:
Wheat
Milk
Mustard
Peanuts
Sesame-seeds
Soya
£10.95
Satay Sauce K. Fried Tofu
Spicy, nuts with creamed coconut
Contains:
Wheat
Milk
Mustard
Peanuts
Sesame-seeds
Soya
£7.50
Satay Sauce L. Broccoli
Spicy, nuts with creamed coconut
Contains:
Wheat
Milk
Mustard
Peanuts
Sesame-seeds
Soya
£7.00
Satay Sauce M. Mushrooms
Spicy, nuts with creamed coconut
Contains:
Wheat
Milk
Mustard
Peanuts
Sesame-seeds
Soya
£7.00
Satay Sauce N. Mixed Seafood
Spicy, nuts with creamed coconut
Contains:
Wheat
Milk
Mustard
Peanuts
Sesame-seeds
Soya
£8.50
Satay Sauce N. Mussels
Spicy, nuts with creamed coconut
Contains:
Wheat
Milk
Mustard
Peanuts
Sesame-seeds
Soya
£8.50
Satay Sauce N. Squid
Spicy, nuts with creamed coconut
Contains:
Wheat
Milk
Mustard
Peanuts
Sesame-seeds
Soya
£8.50
Pak Choy & Beans with Garlic A. King Prawns
Contains:
Molluscs
Sesame-seeds
Soya
Suitable for Vegetarians
£7.95
Pak Choy & Beans with Garlic B. Beef
Contains:
Molluscs
Sesame-seeds
Soya
Suitable for Vegetarians
£7.40
Pak Choy & Beans with Garlic C. Chicken
Contains:
Molluscs
Sesame-seeds
Soya
Suitable for Vegetarians
£7.00
Pak Choy & Beans with Garlic D. Roast Duck
Contains:
Molluscs
Sesame-seeds
Soya
Suitable for Vegetarians
£8.50
Pak Choy & Beans with Garlic E. Lamb
Contains:
Molluscs
Sesame-seeds
Soya
Suitable for Vegetarians
£7.95
Pak Choy & Beans with Garlic F. Fish
Contains:
Molluscs
Sesame-seeds
Soya
Suitable for Vegetarians
£7.40
Pak Choy & Beans with Garlic G. Char Sui (Roast Pork)
Contains:
Molluscs
Sesame-seeds
Soya
Suitable for Vegetarians
£7.40
Pak Choy & Beans with Garlic H. Pork
Contains:
Molluscs
Sesame-seeds
Soya
Suitable for Vegetarians
£7.40
Pak Choy & Beans with Garlic I. Special (King Prawns, Beef, Chicken & Char Sui)
Contains:
Molluscs
Sesame-seeds
Soya
Suitable for Vegetarians
£7.95
Pak Choy & Beans with Garlic J. Steak
Contains:
Molluscs
Sesame-seeds
Soya
Suitable for Vegetarians
£9.95
Pak Choy & Beans with Garlic K. Fried Tofu
Contains:
Molluscs
Sesame-seeds
Soya
Suitable for Vegetarians
£6.50
Pak Choy & Beans with Garlic L. Broccoli
Contains:
Molluscs
Sesame-seeds
Soya
Suitable for Vegetarians
£6.00
Pak Choy & Beans with Garlic M. Mushrooms
Contains:
Molluscs
Sesame-seeds
Soya
Suitable for Vegetarians
£6.00
Pak Choy & Beans with Garlic N. Mixed Seafood
Contains:
Molluscs
Sesame-seeds
Soya
Suitable for Vegetarians
£7.50
Pak Choy & Beans with Garlic N. Mussels
Contains:
Molluscs
Sesame-seeds
Soya
Suitable for Vegetarians
£7.50
Pak Choy & Beans with Garlic N. Squid
Contains:
Molluscs
Sesame-seeds
Soya
Suitable for Vegetarians
£7.50
Peking Spicy Sweet & Sour Sauce A. King Prawns
With garlic & chilli
Medium hot
£8.45
Peking Spicy Sweet & Sour Sauce B. Beef
With garlic & chilli
Medium hot
£7.90
Peking Spicy Sweet & Sour Sauce C. Chicken
With garlic & chilli
Medium hot
£7.50
Peking Spicy Sweet & Sour Sauce D. Roast Duck
With garlic & chilli
Medium hot
£9.00
Peking Spicy Sweet & Sour Sauce E. Lamb
With garlic & chilli
Medium hot
£8.45
Peking Spicy Sweet & Sour Sauce F. Fish
With garlic & chilli
Medium hot
£7.90
Peking Spicy Sweet & Sour Sauce G. Char Sui (Roast Pork)
With garlic & chilli
Medium hot
£7.90
Peking Spicy Sweet & Sour Sauce H. Pork
With garlic & chilli
Medium hot
£7.90
Peking Spicy Sweet & Sour Sauce I. Special (King Prawns, Beef, Chicken & Char Sui)
With garlic & chilli
Medium hot
£8.45
Peking Spicy Sweet & Sour Sauce J. Steak
With garlic & chilli
Medium hot
£10.45
Peking Spicy Sweet & Sour Sauce K. Fried Tofu
With garlic & chilli
Medium hot
£7.00
Peking Spicy Sweet & Sour Sauce L. Broccoli
With garlic & chilli
Medium hot
£6.50
Peking Spicy Sweet & Sour Sauce M. Mushrooms
With garlic & chilli
Medium hot
£6.50
Peking Spicy Sweet & Sour Sauce N. Mixed Seafood
With garlic & chilli
Medium hot
£8.00
Peking Spicy Sweet & Sour Sauce N. Mussels
With garlic & chilli
Medium hot
£8.00
Peking Spicy Sweet & Sour Sauce N. Squid
With garlic & chilli
Medium hot
£8.00
Pineapple A. King Prawns
Contains:
Sesame-seeds
Soya
£7.95
Pineapple B. Beef
Contains:
Sesame-seeds
Soya
£7.40
Pineapple C. Chicken
Contains:
Sesame-seeds
Soya
£7.00
Pineapple D. Roast Duck
Contains:
Sesame-seeds
Soya
£8.50
Pineapple E. Lamb
Contains:
Sesame-seeds
Soya
£7.95
Pineapple F. Fish
Contains:
Sesame-seeds
Soya
£7.40
Pineapple G. Char Siu (Roast Pork)
Contains:
Sesame-seeds
Soya
£7.40
Pineapple H. Pork
Contains:
Sesame-seeds
Soya
£7.40
Pineapple I. Special (King Prawns, Beef, Chicken & Char Siu)
Contains:
Sesame-seeds
Soya
£7.95
Pineapple J. Steak
Contains:
Sesame-seeds
Soya
£9.95
Pineapple K. Fried Tofu
Contains:
Sesame-seeds
Soya
£6.50
Pineapple L. Broccoli
Contains:
Sesame-seeds
Soya
£6.00
Pineapple M. Mushrooms
Contains:
Sesame-seeds
Soya
£6.00
Pineapple N. Mixed Seafood
Contains:
Sesame-seeds
Soya
£7.50
Pineapple N. Mussels
Contains:
Sesame-seeds
Soya
£7.50
Pineapple N. Squid
Contains:
Sesame-seeds
Soya
£7.50
Pineapple & Ginger A. King Prawns
Pickled ginger
Contains:
Sesame-seeds
Soya
Mild hot
£7.95
Pineapple & Ginger B. Beef
Pickled ginger
Contains:
Sesame-seeds
Soya
Mild hot
£7.40
Pineapple & Ginger C. Chicken
Pickled ginger
Contains:
Sesame-seeds
Soya
Mild hot
£7.00
Pineapple & Ginger D. Roast Duck
Pickled ginger
Contains:
Sesame-seeds
Soya
Mild hot
£8.50
Pineapple & Ginger E. Lamb
Pickled ginger
Contains:
Sesame-seeds
Soya
Mild hot
£7.95
Pineapple & Ginger F. Fish
Pickled ginger
Contains:
Sesame-seeds
Soya
Mild hot
£7.40
Pineapple & Ginger G. Char Sui (Roast Pork)
Pickled ginger
Contains:
Sesame-seeds
Soya
Mild hot
£7.40
Pineapple & Ginger H. Pork
Pickled ginger
Contains:
Sesame-seeds
Soya
Mild hot
£7.40
Pineapple & Ginger I. Special (King Prawns, Beef, Chicken & Char Sui)
Pickled ginger
Contains:
Sesame-seeds
Soya
Mild hot
£7.95
Pineapple & Ginger J. Steak
Pickled ginger
Contains:
Sesame-seeds
Soya
Mild hot
£9.95
Pineapple & Ginger K. Fried Tofu
Pickled ginger
Contains:
Sesame-seeds
Soya
Mild hot
£6.50
Pineapple & Ginger L. Broccoli
Pickled ginger
Contains:
Sesame-seeds
Soya
Mild hot
£6.00
Pineapple & Ginger M. Mushrooms
Pickled ginger
Contains:
Sesame-seeds
Soya
Mild hot
£6.00
Pineapple & Ginger N. Mixed Seafood
Pickled ginger
Contains:
Sesame-seeds
Soya
Mild hot
£7.50
Pineapple & Ginger N. Mussels
Pickled ginger
Contains:
Sesame-seeds
Soya
Mild hot
£7.50
Pineapple & Ginger N. Squid
Pickled ginger
Contains:
Sesame-seeds
Soya
Mild hot
£7.50
Black Bean Sauce M. Mixed Veg
With peppers and pinch of chilli
Contains:
Wheat
Sesame-seeds
Soya
Mild hot
£6.00
Black Pepper Sauce M. Mixed Veg
Contains:
Wheat
Fish
Sesame-seeds
Soya
Medium hot
£6.00
Cantonese Sauce M. Mixed Veg
Fruity
Contains:
Wheat
Celery
Fish
Sesame-seeds
Soya
£6.00
Chilli & Garlic Sauce M. Mixed Veg
With babycorn & straw mushrooms
Contains:
Wheat
Molluscs
Sesame-seeds
Soya
Medium hot
£6.00
Curry Sauce M. Mixed Veg
Contains:
Wheat
Celery
Molluscs
Mustard
Sesame-seeds
Soya
Mild hot
£6.00
Garlic Sauce M. Mixed Veg
Contains:
Wheat
Molluscs
Sesame-seeds
Soya
£6.00
Kung Pao Sauce M. Mixed Veg
Tangy & spicy with cashew nuts
Contains:
Nuts
Sesame-seeds
Soya
Medium hot
£7.50
Oyster Sauce M. Mixed Veg
Not vegetarian
Contains:
Wheat
Molluscs
Sesame-seeds
Soya
£6.00
Peking Spicy Sweet & Sour Sauce M. Mixed Veg
With garlic & chilli
Medium hot
£6.50
Satay Sauce M. Mixed Veg
Spicy, nuts with creamed coconut
Contains:
Wheat
Milk
Mustard
Peanuts
Sesame-seeds
Soya
£7.00
Sweet & Sour Sauce M. Mixed Veg
Contains:
Fish
Sesame-seeds
Soya
£6.50
Szechuan Sauce Wow M. Mixed Veg
Contains:
Wheat
Sesame-seeds
Soya
Hot
£6.00
Yellow Bean Sauce M. Mixed Veg
Contains:
Wheat
Sesame-seeds
Soya
£7.50
Beansprouts M. Mixed Veg
Contains:
Wheat
Molluscs
Sesame-seeds
Soya
£6.00
Cashew Nuts M. Mixed Veg
Contains:
Wheat
Molluscs
Sesame-seeds
Soya
Mild hot
£7.50
Ginger & Spring Onions M. Mixed Veg
Contains:
Wheat
Molluscs
Sesame-seeds
Soya
Mild hot
£6.00
Mushrooms M. Mixed Veg
Contains:
Wheat
Molluscs
Sesame-seeds
Soya
£6.00
Pineapple M. Mixed Veg
Contains:
Sesame-seeds
Soya
£6.00
Pineapple & Ginger M. Mixed Veg
Pickled ginger
Contains:
Sesame-seeds
Soya
Mild hot
£6.00
Pak Choy & Beans with Garlic M. Mixed Veg
Contains:
Molluscs
Sesame-seeds
Soya
Suitable for Vegetarians
£6.00
Waterchestnuts & Bamboo Shoots M. Mixed Veg
Contains:
Molluscs
Sesame-seeds
Soya
£6.00
Fried Rice Dishes M. Mixed Veg
Contains:
Wheat
Egg
Sesame-seeds
Soya
£6.00
Chow Mein M. Mixed Veg
Contains:
Wheat
Molluscs
Sesame-seeds
Soya
£7.50
Foo Yung M. Mixed Veg
Contains:
Egg
Sesame-seeds
Soya
£7.50
Chop Suey M. Mixed Veg
Contains:
Wheat
Egg
Molluscs
Sesame-seeds
Soya
£7.50
Thai Red Curry M. Mixed Veg
Contains:
Fish
Sesame-seeds
Soya
Medium Hot
£7.00
Thai Green Curry M. Mixed Veg
Contains:
Fish
Sesame-seeds
Soya
Medium Hot
£7.00
Thai Chilli & Cashew Nuts M. Mixed Veg
Contains:
Wheat
Fish
Nuts
Sesame-seeds
Soya
Hot
£7.50
Thai Chilli & Basil M. Mixed Veg
Contains:
Wheat
Fish
Sesame-seeds
Soya
Hot
£7.00
Skewered Satay Chicken (4)
Contains:
Wheat
Egg
Molluscs
Mustard
Peanuts
Sesame-seeds
Soya
£5.50
Skewered Satay King Prawns (4)
Contains:
Wheat
Crustaceans
Egg
Molluscs
Mustard
Peanuts
Sesame-seeds
Soya
£7.50
Crispy Won Ton (6)
With sweet chilli dip
Contains:
Wheat
Crustaceans
Egg
Fish
Sesame-seeds
Soya
£5.50
Crab Claws (4)
Contains:
Celery
£4.50
Satay Samosa (6)
Suitable for Vegetarians
Contains:
Wheat
Egg
Mustard
Sesame-seeds
£3.90
Seafood Combination
Filo prawns, crispy squid, crab claw & butter king prawns
£8.50
Sesame Prawn Toast (4)
Contains:
Wheat
Crustaceans
Egg
Fish
Sesame-seeds
Soya
£5.95
Special Combination Crispy Dim Sum
2 BBQ ribs, 2 spring rolls, 2 samosas, 2 sesame prawn toast, 2 wontons, seaweed & sweet chilli dip (Contains Nuts)
Contains:
Wheat
Crustaceans
Egg
Fish
Sesame-seeds
Soya
£8.50
Thai Filo Prawns (4)
With chilli dip
Contains:
Wheat
Crustaceans
Egg
Sesame-seeds
Soya
£5.50
Vegetarian Spring Rolls (6)
Suitable for Vegetarians
Contains:
Wheat
Sesame-seeds
Soya
£3.95
Cantonese Spring Rolls (4)
Contains:
Wheat
Egg
Sesame-seeds
Soya
£4.00
Chicken Noodle Soup
Contains:
Wheat
Sesame-seeds
Soya
£4.00
Chicken and Mushroom Soup
Contains:
Wheat
Celery
Egg
Peanuts
Sesame-seeds
Soya
£4.00
Chicken and Sweetcorn Soup
Contains:
Egg
Sesame-seeds
Soya
Fish
£4.00
Peking Vegetarian Hot and Sour Soup
Suitable for Vegetarians
Medium hot
Contains:
Egg
Sesame-seeds
Soya
£3.50
Won Ton Soup
Contains:
Wheat
Crustaceans
Egg
Fish
Sesame-seeds
Soya
£4.95
Thai Hot and Sour Chicken Soup
Contains:
Wheat
Fish
Sesame-seeds
Soya
Hot
£5.50
Thai Hot and Sour Prawn Soup
Contains:
Wheat
Crustaceans
Fish
Sesame-seeds
Soya
Hot
£5.50
Sweetcorn Soup
Contains:
Egg
Sesame-seeds
Soya
£3.50
Peking Hot and Sour Soup
Shrimp and chicken
Contains:
Egg
Sesame-seeds
Soya
Medium hot
£4.00
Ben & Jerry Ice Cream (500ml) Cookies Dough
Contains:
Wheat
Egg
Milk
£6.50
Ben & Jerry Ice Cream (500ml) Chocolate Fudge Brownie
Contains:
Wheat
Egg
Milk
£6.50
Ben & Jerry Ice Cream (500ml) Caramel Chew Chew
Contains:
Wheat
Egg
Milk
£6.50
Ben & Jerry Ice Cream (500ml) Phish Food
Contains:
Wheat
Egg
Milk
£6.50
Ben & Jerry Ice Cream (100ml) - Strawberry Cheesecake
Contains:
Wheat
Egg
Milk
£3.50
Set Meal for 2 People
Starters
Chicken & sweetcorn soup, prawn crackers, BBQ ribs, spring rolls, sesame prawn toast
Mains
Sweet & sour chicken + beef & black bean sauce + mixed vegetables + yeung chow fried rice
£32.00
Set Meal for 3 People
Starters
Chicken & sweetcorn soup, prawn crackers, BBQ ribs, spring rolls, sesame prawn toast
Mains
Sweet & sour chicken + beef & black bean sauce + mixed vegetables + yeung chow fried rice + satay pork
£46.00
Set Meal for 4 People
Starters
Chicken & sweetcorn soup, prawn crackers, BBQ ribs, spring rolls, sesame prawn toast
Mains
Sweet & sour chicken + beef & black bean sauce + mixed vegetables + yeung chow fried rice + satay pork + king prawn & cashew nuts
£60.00
Set Meal for 5 People
Starters
Chicken & sweetcorn soup, prawn crackers, BBQ ribs, spring rolls, sesame prawn toast
Mains
Sweet & sour chicken + beef & black bean sauce + mixed vegetables + yeung chow fried rice + satay pork + king prawn & cashew nuts + roast duck with oyster sauce
£75.00
Set Meal for 6 People
Starters
Chicken & sweetcorn soup, prawn crackers, BBQ ribs, spring rolls, sesame prawn toast
Mains
Sweet & sour chicken + beef & black bean sauce + mixed vegetables + yeung chow fried rice + satay pork + king prawn & cashew nuts + roast duck with oyster sauce + Cantonese fillet steak
£89.00
Aromatic Crispy Duck (Half)
Served with pancakes, hoi sin sauce & vegetables
Contains:
Wheat
Sesame-seeds
Soya
£18.50
Aromatic Crispy Duck (Quarter)
Served with pancakes, hoi sin sauce & vegetables
Contains:
Wheat
Sesame-seeds
Soya
£10.50
Sauces BBQ Sauce
Suitable for Vegetarians
£2.00
Sauces Curry Sauce
Suitable for Vegetarians
£2.00
Sauces Satay Sauce
Suitable for Vegetarians
£2.00
Sauces Sweet & Sour Sauce
Suitable for Vegetarians
£2.00
Stir-Fried Noodles
Suitable for Vegetarians
Contains:
Wheat
Sesame-seeds
Soya
£4.50
Chilli Prawn Crackers
With sweet chilli dip
Contains:
Crustaceans
Sesame-seeds
Soya
£3.00
Honey Roasted Chips
Suitable for Vegetarians
£3.95
Salt & Pepper Chips
Suitable for Vegetarians
Contains:
Sesame-seeds
Soya
£3.95
Prawn Crackers
Suitable for Vegetarians
Contains:
Crustaceans
Sesame-seeds
Soya
£2.20
Chips
Suitable for Vegetarians
£3.00
Boiled Rice
Suitable for Vegetarians
£3.00
Mixed Vegetables
Suitable for Vegetarians
Contains:
Wheat
Molluscs
Sesame-seeds
Soya
£4.50
Mushrooms
Suitable for Vegetarians
£4.50
Edamame
Steamed edamame beans with soya sauce
£4.30
Egg Fried Rice
Suitable for Vegetarians
Contains:
Wheat
Egg
Sesame-seeds
Soya
£3.50
Roast Duck with Plum Sauce
Contains:
Sesame-seeds
Soya
£8.50
Thai Crispy Chilli Chicken
Contains:
Celery
Egg
Mustard
Sesame-seeds
Soya
Medium hot
£6.95
Steamed Sea Bass on Pak Choy
Fillets with fresh ginger, spring onion, chilli and garlic
Contains:
Celery
Fish
Sesame-seeds
Soya
Mild hot
£9.90
Vegetarian Singapore Vermicelli
Suitable for Vegetarians
Medium hot
Contains:
Egg
Mustard
Sesame-seeds
Soya
£7.95
Yung Chow Fried Rice
Shrimp roast pork & green peas
Contains:
Wheat
Crustaceans
Egg
Mustard
Sesame-seeds
Soya
£7.95
Chilli Shredded Beef
Contains:
Egg
Sesame-seeds
Soya
Medium hot
£7.95
Chilli Shredded Chicken
Contains:
Egg
Sesame-seeds
Soya
Medium hot
£7.95
Crispy Chilli Beef (Dry)
Contains:
Egg
Sesame-seeds
Soya
Hot
£7.95
Crispy Chilli Chicken (Dry)
Contains:
Egg
Sesame-seeds
Soya
Hot
£7.95
Singapore Fried Rice
Onions red green pepper shrimp and roast pork
Contains:
Celery
Egg
Mustard
Sesame-seeds
Soya
Mild hot
£7.95
Singapore Vermicelli
Mixed vegetables, shrimp and roast pork (spicy)
Contains:
Wheat
Celery
Egg
Mustard
Sesame-seeds
Soya
Mild hot
£7.95
Pad Thai
Chicken and prawns
Contains:
Wheat
Celery
Egg
Mustard
Sesame-seeds
Soya
£8.50
Fried Chicken & Cantonese Sauce
Contains:
Wheat
Celery
Egg
Peanuts
Sesame-seeds
Soya
£8.30
Fried Chicken and Lemon Sauce
Contains:
Egg
Peanuts
Sesame-seeds
Soya
£8.30
Special Fried Rice
Beef, pork, chicken and king prawns
Contains:
Wheat
Crustaceans
Egg
Mustard
Sesame-seeds
Soya
£8.00
Mini Wok
A healthy meal for the kids
100% Chicken or fish goujons, portion of egg fried rice, fortune cookies, carton of orange juice
£5.50
Still Mineral Water - 50cl
£1.00
Lettuce Wrap Chicken
Contains:
Wheat
Sesame-seeds
Soya
£6.50
Salt and Pepper Crispy Lamb
Contains:
Egg
Sesame-seeds
Soya
Medium hot
£7.95
Salt and Pepper Crispy Tofu
Contains:
Sesame-seeds
Soya
£6.50
Salt and Pepper King Prawns
Contains:
Crustaceans
Egg
Sesame-seeds
Soya
Medium hot
£7.95
Crispy Fried Squid
Contains:
Wheat
Egg
Molluscs
Mustard
Peanuts
Sesame-seeds
Soya
£7.50
Crispy Seaweed
Suitable for Vegetarians
£5.50
Salt and Pepper Squid
Contains:
Wheat
Egg
Molluscs
Sesame-seeds
Soya
Medium hot
£7.50
Thai Spicy Fish Cakes
With chilli dip (Hot)
Contains:
Wheat
Fish
Soya
Medium hot
£5.50
Spicy Chicken Katsu Curry
Contains:
Wheat
Celery
Molluscs
Mustard
Sesame-seeds
Soya
Hot
£8.20
Salt & Pepper Chicken Goujons
Contains:
Celery
Egg
Mustard
Sesame-seeds
Medium hot
£6.95
Chicken Balls
With sweet & sour dip
Contains:
Celery
£5.80
Contact Us
Find Us
37 Crendon Street, High Wycombe, HP136LJ
We deliver to
HP10, HP11, HP12, HP13, HP14, HP15, HP16, HP9, SL7, SL8